Experts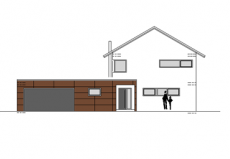 Detailed information for architects, planners and timber builders
The future of building: specialist knowledge Massiv-Holz-Mauer® and profiled timber elements
Architects, planners, timber builders and interested developers can find technical information here on the new stars among ecological construction materials. Our Massiv-Holz-Mauer® and profiled timber elements enable simple design and static testing by means of software, dimensionally accurate delivery to the construction site and extremely short construction times. Flexible planning, an increasing demand for timber as a construction material and a large number of previously completed projects will convince you.
Gain value-added!
In order for carpentry shops and sawmills to meet the constantly changing requirements of the market, it is not enough to be able to process "only" one high-performance building material. In order to distinguish themselves from the competition and to be able to secure additional value-added for one's own business, Massiv-Holz-Mauer® or profiled timber element production lines represent a precisely calculable and profitable investment with short depreciation periods.
You can find more information on investment volume, calculation and profitability here...
On the following pages, planners and producers of Massiv-Holz-Mauer® can find all the data, instructions and software required for constructing a building and its interior. Read more about the future of construction here:
Link to the technical specifications...
Link to the production line...
Link to the construction diary...