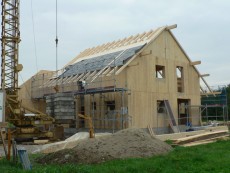 Building with Massiv-Holz-Mauer
5 steps from construction planning to a building that is ready for use
1) Making architectural visions become reality
With Massiv-Holz-Mauer®, wood can become a high-tech construction material with which architectural visions can become reality. You need not worry: With MHM, you or your architect can plan layouts without any restrictions and with a lot of room for ideas - even unconventional ones.
Because the Massiv-Holz-Mauer® system offers many advantages:
Flexible planning
Wood offers high bearing capacity and is light, easy to process, gives you unlimited scope for construction and is optimally suitable for "difficult" plots of land, e.g. slopes. The Massiv-Holz-Mauer® system makes it is possible for you to build economical houses without any specific limitations.
No restrictions
The Massiv-Holz-Mauer® elements are manufactured in sizes varying from 2.0 x 2.0 m to 3.25 x 6.0 m, between which there are no restrictions measurement-wise. The elements are adapted to planning specifications, not vice versa. Openings are possible up to 2.50 m without any intermediate supports.
Individual façade design
Irrespective of whether you as a developer want a wooden façade or you would prefer a house with plaster rendering, whether you want your house to look more countrified, simple, traditional or architecturally modern, everything is possible. Plasterboard or insulating panels as plaster bases and also decorative timber formwork can be attached directly to the Massiv-Holz-Mauer®
Flexible choice of wall geometry
The precise preparation via computer and the use of the most modern manufacturing tools allow solutions – even unconventional ones. Whether the layout is rectangular, or the building is polygonal or trapezoidal, even original ideas are easy to implement with minimum expenditure.
All combinations are possible
In MHM houses you can have any combination of wall and ceiling elements. The sturdy, solid structure allows you to use the most diverse ceiling systems; bearing beams and edge beams as well as joists for visible ceiling constructions or alternatively timber ceilings are prepared in the factory.
The Massiv-Holz-Mauer® manufacturer uses these plans to produce a 3D CAD drawing containing the exact size, the design and all cut-outs and millings.
2) Massiv-Holz-Mauern®: Construction with CAD software
Your individual construction plans are processed in a 3D CAD program and the wall surfaces are divided into separate wall elements, window and door openings, knee wall, gables and lintels are taken into consideration and calculated very precisely by means of a CNC controlled portal processing unit.
3) Computer controlled manufacturing
Massiv-Holz-Mauer® elements are prefabricated with an accuracy level of +/- 1 mm - along with all the openings for doors, slants, installation ducts or beams. This high degree of prefabrication guarantees that your shell as well as your electrical and sanitary systems is assembled in a straightforward, fast and safe way, making it easy to continue working on and guaranteeing a high degree of tightness even when the house is only a shell construction.
This prefabrication in the factory has several advantages for you as a developer:
The high degree of prefabrication and computer controlled manufacturing (CAM) guarantee fitting accuracy
Planning and cost certainty through 3D CAD planning
Permanent quality assurance during all stages of manufacturing.
4) The MHM building site: Delivery and assembly are carried out quickly, precisely and cleanly
Even on a "fast building site" MHM presents itself in its best light. For a normal detached house with e.g. 120 – 150 sqm living space, assembly time is 2-3 days including the roof structure. Thus, the shell is protected quickly by its own roof and all the subsequent work can be carried out straight away.
The impressively fast assembly time is due to the fact that the wall components with millimetre accuracy are delivered in a finished state from a computer controlled CNC production site near the building site. A specialist firm with a handful of carpenters does not require more than the two to three days mentioned to assemble a typical detached house including the roof structure starting from the foundation or top of the basement
A lorry delivers the solid wall elements for your dream house to the building site; the individual shell wall elements are placed together and screwed merely by means of a numbering system. In this way, the dry house is protected by its own roof as early as on the second or third day and the interior work can start.
Advantages
Planning and cost certainty is the result of fast professional preparation work
Short assembly times on account of the high degree of prefabrication
Quick assembly saves crane costs; the roof structure protects the inside of the house straight away
The walls are sturdy and resistant – there is no subsidence on account of the cross-wise assembling
Openings of up to 2.50 m are possible without lintels
Combinable with any wall and ceiling elements
Can be processed with all conventional woodwork tools
5) Interior work: Steps and materials
Due to the fact that aluminium is a comparatively soft connecting material, the wall can still be worked on easily on the building site with commercially available tools. Thus, any alterations which may occur, such as e.g. sockets, can be easily rectified and arranged in accordance with the developers' wishes.
We recommend that near-natural materials should be used for interior work so that the positive natural qualities of wood such as its permeability can be ensured. Your architect can give you detailed advice.