PHE production line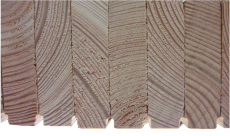 PHE production line
A strong system fit for the market!
It is worthwhile investing in a PHE production line. Here is a summary of the advantages of the new "profile wood elements":
Time saving – only approx. 4 minutes per sqm
Comparatively low purchasing costs – calculable investment risk
Environmentally compatible product manufacturing
Environmentally compatible use without any health hazards
Straightforward disposal and recycling
Low energy consumption throughout entire working life
A further advantage: A problem of the previous nailed board stack elements is the very high degree of machine wear, when upgrading or repairs are required on the elements. Due to the high nail density in the board stack element, the cutting tools of timber processing machines come into contact with the metallic connectors which can lead to damage or destroy the timber processing machines.
Short description of the manufacturing process:
Rough sawn, dried side pieces are brought together into a continuous strand by a finger jointing station which is integrated in the plant. In order to create a finely-structured, uniform bottom layer, the lamella is profiled on one side. The remarkable thing is that this is the only time in the entire production process that waste occurs from planing. However, this waste is an unbeatable 5%. This "endless" board is then shortened to the desired length.
The individual layers of board are stacked one on top of the other, compressed and joined together by aluminium groove pins. The sturdy and extremely strong elements can be manufactured in thicknesses of 7.5 to 25 cm and in widths of up to 1.20 m and any length between 4 m and 12 m.
Elements with varying size and length can be manufactured simultaneously; the control program minimises offcuts.
The profile wood elements can be easily finished with the Hundegger K2/K3 joining machine or the PBA.
Film showing the PHE production line
Compared to other plants and devices, which are necessary for the manufacture of ceiling systems, the PHE production line takes up a relatively small area of space. In order to ensure that the operation runs rationally and without any interruptions, a hall of minimum 40 m x 10 m should be available. Attention should be paid to the fact that additional space is required for storing and loading the finished profile wood elements.